What better way to introduce ourselves to theatre lovers than sharing our top 5 musicals? At the end of the list, we have a personal choice each that didn't make it into the top 5! Nobody wants to read a big introduction to a list of favourites so here it is:
1: Hamilton
We LOVE 'Hamilton'! We got the Broadway cast album in 2016 after hearing the hype but weren't immediately hooked. After a few listens, it grew on us and suddenly we found ourselves head over heels for the show! Since it opened in London in 2017, we have seen the show 3 times, learnt all the lyrics (and even some of the choreography!) and are always looking forward to going again. Everything about the show is top class; from quick-fire lyrics to heartbreaking moments, this show has it all. Following the life of Alexander Hamilton from the moment he arrives in America in 1776 until his death many years later allows you to feel such compassion for the character and those around him.
2: Come From Away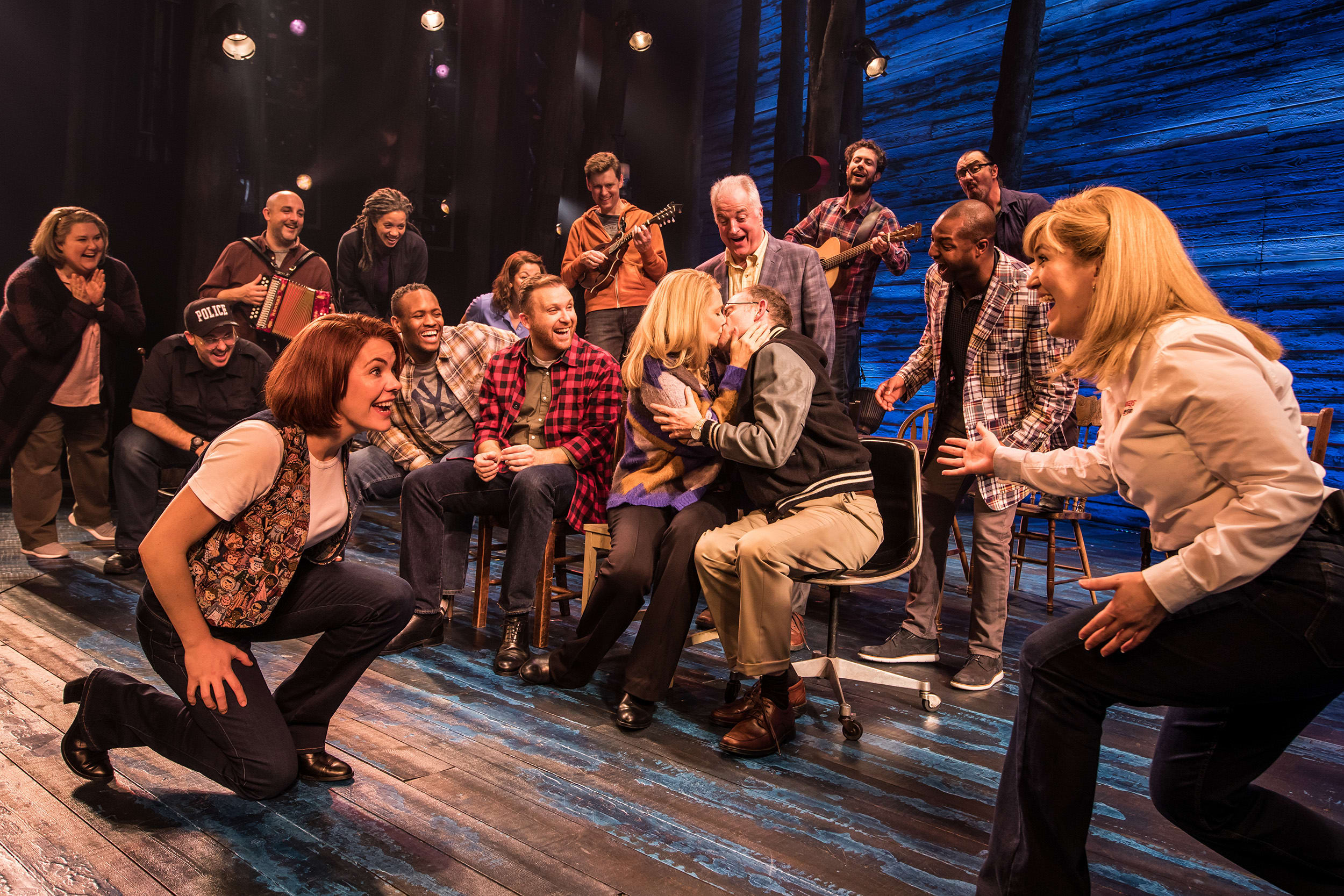 Words can't describe the elation you feel watching 'Come From Away'. We first saw this show in its opening week in the West End on a whim based on people's reactions from its time on Broadway without really listening to the show beforehand and were blown away. For a show based around the events of 9/11, elation isn't something you would expect to be feeling by the end, but as it is set in Newfoundland where 7000 people were diverted due to the attacks where the locals had no choice but to help out, you see true stories that give a different perspective of how the disasters affected people. It is brilliant.
3: Les Misérables
When you think of musicals, 'Les Mis' isn't far from a first thought. This show goes back a long way with us as John spent a year rehearsing and performing as Javert in a School Edition at 18. It was the first show we saw together in the West End, and with the current UK tour and the all-star staged concert, we've got a couple more visits lined up! The story of Jean Valjean's life is told in the show, which paired with the French Revolution has quite the recipe to run the audience through all sorts of emotions. This one you will definitely need a pack of tissues for; and a spare pack if you are sitting beside us!
4: The Book of Mormon
A slight contrast of content when compared to 'Les Misérables', 'The Book of Mormon' is arguably the funniest musical ever made. After seeing it twice in London, once in Manchester and with tickets to see it in Sunderland, you could say we are definite fans of the show. The cast album is one that can just be put on repeat in the car and we will never be bored of it. The show is written by the creators of 'South Park' (which is a good foundation to take a non-musical lover to see this) that tells the story of two polar opposite Mormon missionaries sent to Uganda to try and convert the locals to Mormonism. It is satirical, hilarious and unmissable.
5: Miss Saigon
Another sung-through musical, 'Miss Saigon' is a super powerful, super amazing show. We saw this on a recommendation from a friend and loved the whole thing. The most recent production was mind-blowing with the staging of Kim's Nightmare. Luckily they have recorded this and you can get it on DVD! (definitely going to do a short blog post on this in the future). It tells the story of the love between a US soldier and a local working girl that begins towards the end of the Vietnam War. Written by the same team that created 'Les Mis', don't expect a love story without heartbreak in this one.
Personal Picks – Kayley: The Phantom of the Opera
K:I was never bothered about seeing 'Phantom' but after a friend of ours put on an amateur performance that we saw, I was won over. I have seen it twice since and a million other times watching the live 25th anniversary DVD starring my fave Ramin Karimloo. I'm hoping it comes close enough to Newcastle on its recently announced UK tour as I'd love to see it again. We met Ben Forster who was starring as The Phantom at the time after seeing it in London in 2016 and he was phenomenal. I went alone to see it on Broadway and it was such an amazing experience. It's such a powerful show and that why it's a classic in my eyes.
Personal Picks – John: Billy Elliot
J: I loved this show when we saw it on the previous tour. We went in completely blind, and by the interval I couldn't speak due to how emotional I was at what we had just seen. I have a certain liking for British settings in theatre, TV and film which this show just ticked all the boxes of. The talent of the cast was unbelievable, with choreography coming from kids who must have only been around 10 years old that I couldn't even dream of being able to do. An interesting fact from this show is that the day Margaret Thatcher died, the audience of the West End performance were asked going in if the cast should still perform "Merry Christmas Maggie Thatcher" that night as it contains the line "We'll all celebrate today 'cause it's one day closer to your death.". From an audience of approximately 1,600, only 3 people voted against the song being performed, so it went ahead.
We would love to hear what your top 5 are! Let us know in the comments.